The award-winning Insta-Valve Plus from Hydra-Stop is a resilient seat wedge valve that uses bullet stopper technology to stop flow in all types of pipe and can be installed under pressure, up to 150 psi. The Insta-Valve Plus exceeds industry standards and provides a safer, more economical way of inserting valves in your system.
---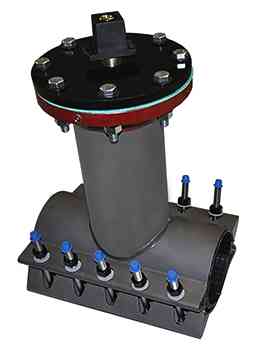 The Insta-Valve Plus is easy to use and even easier to install. Insta-Valve Plus can be installed in half the time compared to traditional methods. Installed under pressure, without service disruption, Insta-Valve Plus provides immediate system control with only one cut.
The Insta-Valve Plus design exceeds industry standards by including a stainless steel stem collar and a heavy duty stainless steel valve stem that hold Insta-Valve Plus above the rest.
Insta-Valve Plus stops flow in all types of pipe 4" to 16" including potable water mains, wastewater force and gravity mains, and industrial applications. It can be installed using existing Hydra-Stop equipment or as a stand alone system.
The sealing surface of the Insta-Valve Plus consists of a compression molded vulcanization that optimizes the seal against the pipe for consistent performance.