The Hydra-Stop HSF 250 and HSF 250 Patriot Series Line Stop fittings are a step forward in line stopping technology. The fittings incorporate features which matter most to our customers - 250 psi working pressure, Made in the USA, Heavy Duty Stainless Steel Construction and a Push and Pin Completion Plug system.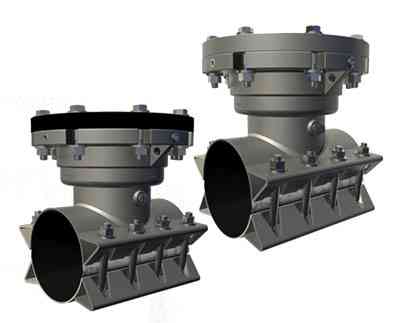 The HSF 250 Patriot Series is 100% domestic in materials and manufacture and meets Made in USA and American Iron and Steel Requirements (Public Law 113-76).
The HSF 250 and HSF 250 Patriot Series line stop fittings are NSF 61 and ANSI 372 certified by Underwriters Laboratories, Inc. to be used as a fully UL® compliant component of water systems in the United States.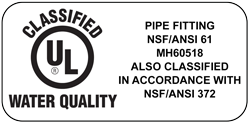 NSF/ANSI Standard 61 was established to provide minimum requirements for the control of potential adverse human health effects from products that contact drinking water. This includes criteria for testing and evaluating products to ensure they do not leach potentially harmful contaminants into the water system.
The HSF 250 Patriot Series also meets requirements specified in additional "Buy America" legislation. When the project calls for Made in America, it calls for the HSF 250 Patriot Series.
Compare for yourself. When specifying your next line stop fitting, specify the HSF 250 Patriot Series Line Stop Fitting. The HSF 250 Patriot Series is the ONLY line stop fitting which offers all the following features as standard: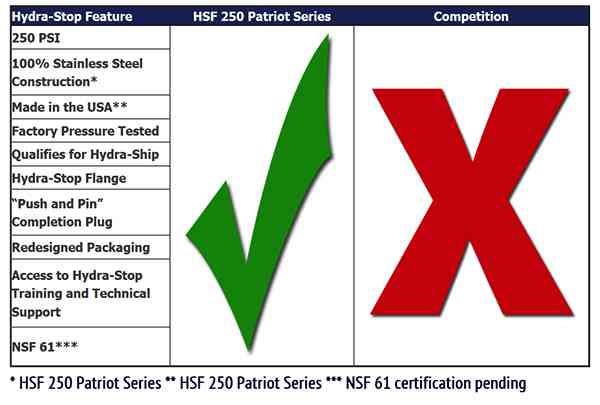 4 through 8 inch fittings are now available. 10 and 12 inch fittings are coming soon.
Each HSF 250 fitting is factory pressure tested and serialized for trace-ability before leaving our facility. The blind flange and fitting body arrive ready to be placed on the pipe for pressure testing. The nylon "Push and Pin" completion plug saves installation time and eliminates the possibility of a cross threaded completion plug. Other time saving features such as integrated lifting gussets, drop in bolts and slotted flange make for safe, quick and simplified installations.